Episodes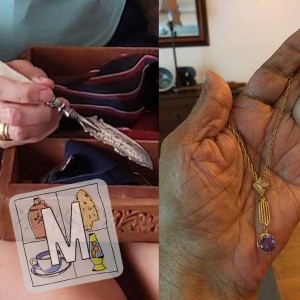 Sunday May 10, 2020
Sunday May 10, 2020
The Materialists are….
Becky O'Sullivan (Public Archaeology Coordinator, FPAN West Central Region)
Nigel Rudolph (Public Archaeology Coordinator, FPAN Central Region)
For more info on FPAN please visit http://fpan.us/
We would like to thank….
The Florida Public Archaeology Network, The University of South Florida - Department of Anthropology, and The Crystal River Preserve and Archaeological State Park. For more info on USF Anthro Department please visit their website at https://www.usf.edu/arts-sciences/departments/anthropology/ For More info about the Crystal River Archaeological State Park please visit their website at https://www.floridastateparks.org/parks-and-trails/crystal-river-archaeological-state-park
Thank you to the band Have Gun, Will Travel for the use of their song Silver and the Age of Opulence for our intro music. For more information on HGWT please visit their website at http://hgwtmusic.com/
For questions or concerns about the podcast please email us at the materialistspodcast@gmail.com
Episode 13: The Things They Carried
First things first…Huge thank you to our mom's…Rosa Rudolph and Jean O'Sullivan. Wonderful stories and can't thank you enough. Happy Mother's Day!
 All the papers we looked at for this episode…in no particular order….
Johns River Fisher-Hunter-Gatherers: Florida's Connection to Cahokia (2020), Keith Ashley & Robert L. Thunen, Journal of Archaeological Method and Theory.
The History and Future of Migrationist Explanations in the Archaeology of the Eastern Woodlands with a Synthetic Model of Woodland Period Migrations on the Gulf Coast (2020), Thomas J. Pluckhahn, Neill J. Wallis & Victor D. Thompson, Journal of Archaeological Research
The Alachua Tradition of North Central Florida Revisited (2019), Matthew Lyons (Masters thesis)
All the links and info for Dr. Jason De León (Professor of Archaeology and Anthropology UCLA)
"The objects immigrants hold dear: This photo series explores the emotional weight of the items immigrants carry with them to America" https://theweek.com/captured/744097/objects-immigrants-hold-dear
Simon & Garfunkel. America. Bookends. Columbia Records, 1968. Song purchased on Google Play Music.